Mathoor family's history is closely linked with the destinies of two of the greatest kingdoms in Kerala, called Chempakassery Devanarayanas and the powerful Travancore dynasty .

Mathoor Panicker, the great warrior and the honorary commander in chief of the King Devanarayana of Chempakassery, was the founder of the Mathoor Family. The king himself brought him from Malabar to head his armed forces.

The contributions of the family towards "kathakali", the great classical dance form , "velakali" and other martial arts is enormous and invaluable. The great kathakali artist , late shri Mathoor Kunju Pillai Panicker, was an actor with impeccable quality, versatile style and one of the most respected gurus in this field , with a galaxy of disciples in the likes of Shri Chengannur Raman Pillai, Shri Champakkulam Pachupillai and Shri Guru Gopinath .



The serene atmosphere of the mathoor temple and the encouragement he got from the mathoor family members was the inspirational factor for shri Kunjan Nambiar , who originated the dance form "Ottam thullal" , Shri Kunjan Nambiar stayed with mathoor family for a long duration , choreographing this performing art form, Ottam Thullal in Mathoor kalari. His sincere devotion towards "Mathoor Bhagavathi" came out in the form of different "slokas" and one "ashtakam" on Mathoor Bhagavathi .

Mathoor Kalari was very famous with its superlative degree of perfection in fencing and other forms of martial arts. The history books sight a story of the then crown prince of travancore , Karthika Thirunal, stayed in disguise in the mathoor kalari to master the rarest techniques of martial arts from the Mathoor Panicker and the Guru Dronampally Acharya.
"Velakali" is another classical dance form , virtually originated from the Mathoor Kalari.

Even today the Mathoor family is dedicated to the cause for the enrichment and encouragement of these art forms with the traditional style and commitment . Mathoor family today is one of the prominent families in Kerala which is still keeping its traditional values intact , and commitment to the society alive.

The origin of "Mathoor Bhagavathi"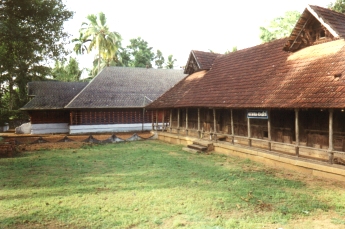 The origin of mathoor bhagavathi roots back to a place called "padugaradimana" in varampally village in Uduppi , where one of Mathoor Panicker's nephew has done his "Gurukula Vidyabyasa" centuries ago. While returning back home after the completion of his education , his guru pathni , the wife of the great Dronampally Acharya presented him a very powerful idol with her blessings. This idol is the Mathoor Bhagavathi. Shri Attupurathu Bhattathiri, an eminent scholar , and well respected religious personality, have done the "pranaprathishta " at the Mathoor temple.